Beuhar collectif,
Un petit appareil très malin trouvé en chinoisie, il faut tout très correctement, surtout par rapport à son prix. Je l'ai essayé en tant que DAC/PREAMP sur des enceintes actives et en tant que DAC/AMPLI CASQUE. Il fait vraiment bien son travail Descriptif en anglais puisque venant pour l'essentiel du fabricant:
The DAC-01A stands out with its high fidelity vacuum tube output . With no less than five sources signal inputs for selecting : DVD/CD, AUX, coaxial, optical and USB input. This is easy the best bang for the money.
XiangSheng DAC-01A lets you "upgrade" the music listening experience, for any type audio setup, from computer-based systems, to network music devices, or standard CD/DVD etc. Just plug it into your existed setup and enjoy the superior high end sound quality.
This is a newer design so not like the old Tube DAC. The unit have two output, one with transistor and one with single 6N3 vacuum tube. So you can change the two output to find more fun. You can compare the sound between the two output then find out which can match you listen taste.
The DAC-01A is automatically configured with Windows XP or any more recent windows version.
It also works perfectly with asio4all associated with Foobar2000.
◆ (5) sets of inputs: including (2) sets of analog RCA inputs
(DVD/CD, AUX), (1) coaxial, (1) optical and (1) USB input.
◆ (2) sets of RCA outputs – transistor and vacuum tube.
◆ Built-in headphone amplifier: allows you to enjoy music with privacy. Great power, music layers and details.
◆ Genuine imported processing chip
◆ All resistors and capacitors are audiophile grade to ensure sound quality. Key parts are from Germany and Taiwan etc..
◆ R-shape high efficiency transformer.
◆ Separate power supply rectification to analog and digital circuits.
◆ Gold coated RCA connectors and coaxial connector.
◆ Vacuum tube output use well-known Chinese 6N3 tube. It can be replaced with 5670 type of tube.
◆ Brushed aluminum (7mm thickness) faceplate, with all metal buttons and knobs, plus blue LED indicator light.
◆ It's not only headphone amplifier but also pre-amplifier.
◆ Having two RCA analogy un-balance output(Normal Output and Tube Output), can be connected to transistor amplifier and tube amplifiers .
Technical Specifications:
Input Impedance:
Analog 100 kohm
Digital 75 kohm
THD :
Transistor output - <= 0.001%
Tube output : <= 0.1%
Frequency Response: 20Hz – 30kHz +/-1dB
Maximum Output (Headphones amp):
1000mW x 2 (32ohm)
500mW x 2 (300ohm)
300mW x 2 (600ohm)
S/N Ratio:
Transistor : 96dB
Tube : 90 dB
This DAC supports 16bit, 20bit and 24 bit audio depending on source.
Sampling Frequency: 32kHz, 44.1kHz, 48kHz, 88.2kHz and 96kHz, depending on source.
Output voltage (Line): > 2000 mV
Dynamic Range: 117 dB
Power Supply: AC220V/110V, 60/50Hz
Measurement: 26cm x 5.5cm x 17cm
Working Temperature: 5-40 Degree Celsius
Working Humidity: 35-80%
Color of front panel : Silver & Black
Net weight: 2kg
Line output (connect with amplifier) and headphone amplification are both controlled by the volume potentiometer .
When plugging in headphones, line output becomes mute automatically, only headphone amplification have output. When removing heaphones, line out recovers by itself.
L'appareil a une vingtaine d'heures de rodage à volume très raisonnable.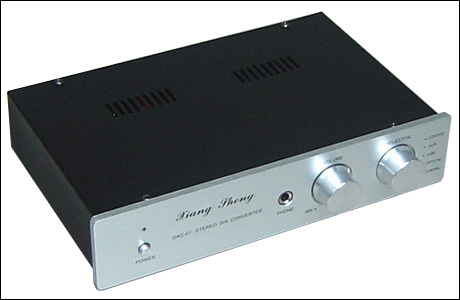 Prix: 134€ avec envoi de Chine par airmail (avion)
, délai estimé: 15 jours voire 3 semaines (plus lent que d'habitude à cause de contrôles à l'import et export à l'occasion de l'exposition universelle qui approche à grands pas).
Paiement uniquement par paypal.
Cordialement.